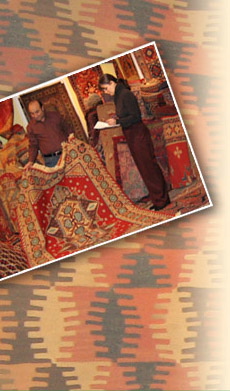 DESIGNERS & DECORATORS
Working with designers and decorators is an important part of our business so we go out of our way to help you please your clients. You can count on us to stand behind the value and authenticity of our handmade rugs. And we are always ready to give the history of any selection and it's provenance wherever possible. Loans of rugs can be arranged if you need to show your clients how a rug might look in a room you're designing. We can also support you in using handmade rugs to create custom coverings for furniture, pillows for entertainment rooms and other items.
Please feel free to order by phone or call us for information on discounts to the trade. We ship to anywhere in the U.S.
Sometimes choosing the perfect handmade rug can be intimidating for some. Because of this, Pasha Rugs provides complimentary designer services to assist you in selecting the rug that will best match your space. Contact us to discuss your needs with one of our designers.
Pasha Rugs 27 Bridge Street, Lambertville, NJ 08530
(609) 397 5434
antique oriental rugs, handmade rugs, turkish rugs, oriental rugs, kilim, persian rugs, antique rugs, wool rugs, area rugs
antique oriental rugs, handmade rugs, turkish rugs, oriental rugs, kilim, persian rugs, antique rugs, wool rugs, area rugs
antique oriental rugs, handmade rugs, turkish rugs, oriental rugs, kilim, persian rugs, antique rugs, wool rugs, area rugs
antique oriental rugs, handmade rugs, turkish rugs, oriental rugs, kilim, persian rugs, antique rugs, wool rugs, area rugs